OPENING – May 28th 2010, from 9 am to 7 pm
We will open the first Centre's house! This building is going to be the core of all that happens at Planet 47.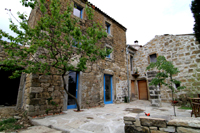 The opening day will be dedicated to music. There will be a musical workshop accompanied by other all-day activities. Another important plan for the day is to form, with the help of specialised mentors, a continuing programme for musically talented children with DS.
E-LEARNING – 2010
Toward the end of 2010 we are entering the public competition for e-learning. We are going to create an e-textbook for children with DS.
This playing-didactic linguistic expedient will help children with DS learn how to speak and comprehend common notions. Application will be free of charge and accessible to everyone. It will also be suitable (and fun) for all little children learning their first words.
We will cooperate with the Employment Service of Slovenia and mobility programme Cmepius for schooling and employing persons with DS.
PRIZE-WINNERS – March 21st 2010
On the World Down's Syndrome Day 2010, Planet 47 and TV Slovenia raffled three cheques from our donators who generously responded to our Calendar 2010 Project and so helped us build the central house of the Planet 47.
We sincerely thank all the donors for your gracious contributions!
The three prizes and the lucky winners are:

1. Family weekend package on the Planet 47
Alenka Pečnik, 1295 Ivančna Gorica

2. Romantic dinner in the world of Asian tastes
Antonija Pesak, 3203 Nova Cerkev

3. Trip for two persons to Furlanija – Julijska krajina
Sara Križanič, 4207 Cerklje na Gorenjskem